History
Great historical changes over the years...
1750-1800
Puritan settlers first came to what is now Lenox in 1750, and the town was incorporated under that name in 1767. The pioneer Catholic settler was John Grace, an Irishman who became owner of a parcel of land in north Lenox in 1783. Eventually he left the town to seek his fortune in the West.
Another Irishman, one whose name became prominent in Berkshire County history, came to Lenox in 1794. He was Patrick Plunkett, gardener for Col. William Walker of Revolutionary War fame, Lenox was just entering on its first building period, and Plunkett left gardening to become a contractor.
Plunkett was a staunch Catholic, and in the early days when there was no Lenox Catholic church or nearby Catholic Masses, he used to walk like others to Albany to make his Easter duty. His descendants became leading manufacturers in the Berkshires, as reflected in the histories not only of Lenox but, of Pittsfield, Lee, Hinsdale, and Adams.
1800-1900
Many Irish Catholics came to Lenox with the wave of immigration of the 1840's. Those who settled in the northern part of Lenox engaged principally in quarrying, lumbering, and farming; those in Lenox village and the western part of town were farmers and miners; those to the east were miners or worked in the glass factories and on the railroad.
Like Plunkett, these early Catholics walked to Albany, or to Hudson, to attend Sunday Mass, starting on Saturday mornings to reach their destination in time for the celebrating on Sundays. Later, as Catholic activity increased in the county, they walked to Masses closer to home, such as in Lee or Great Barrington.
An early historian reports there were "twelve or more" Catholic families in Lenox in 1846. A priest in Chicopee was persuaded to come to Lenox to say Mass on weekdays some four or five times. Later priests from Pittsfield and other early Catholic parishes also said Mass here. The William Gorman home, later called the Bridget Mahanna home, after his daughter, was site of these early Masses. The house stood near the present driveway of St. Ann's Cemetery.
In 1856 Lee became a parish, and Lenox was made a mission of Lee. People heard Mass at the Lenox Town Hall once a month. The Rev. George Brennan became joint pastor of Lee and Lenox in 1864, and Sunday school was held in the town hall.
In 1868 Father Brennan purchased land on Walker Street on which to build a church. Grace Sedgwick, a niece of the novelist Catharine Sedgwick, provided money for the purchase. She was a convert to Catholicism and had conducted catechism classes in her home. Later she became wife of Charles Astor Bristed, a writer and grandson of the magnate John Jacob Astor.
Father Brennan exchanged the Walker Street site for one on Main Street, and the first St. Ann's Church was built there in 1870, paid for by donations of both Catholics and non-Catholics. It was a wooden frame church in the Gothic Revival style.
The territory served by St. Ann's was expanded in 1885 to include the northern part of town, which formerly had been part of St. Joseph's Parish of Pittsfield. In 1888 with the assistance of William Mahanna a large tract was purchased to establish St. Ann's Cemetery.
Another wealthy convert who helped St. Ann's was Anna Ward. She was wife of the first Lenox "cottager," Samuel G. Ward, who built the Highwood and Oakswood estates in Lenox. Mrs. Ward received her first communion from Pope Pius IX following her 1857 conversion in Rome. She was known for her charities and for the help she gave various pastors of St. Ann's.
In 1891 St. Ann's became a separate parish with the Rev. William J. Dower as its first resident pastor. An active participant in town affairs, Father Dower was for several years a member of the Lenox School Committee and a trustee of Lenox Academy.

Confirmation was administered for the first time at St. Ann's in 1894. The parish's rapid growth led to the addition of an assistant pastor in 1903.


1900-2000
The pastorate of the Rev. William F. Grace, who served from 1903 to 1922 was marked by four major steps: the construction of St. Vincent de Paul Church in Lenox Dale; the installation of the steel gate and stone wall at the entrance of St. Ann's Cemetery; the purchase of the Willows, a private home just south of the church, for use as the rectory; and construction of the present St. Ann's Church in 1911-12.
Built in an early English Norman style at a cost of $100,000, the new St. Ann's Church was designed by architect F. Burrell Hoffman of New York and built by the E.L. Sampson Brothers of Springfield.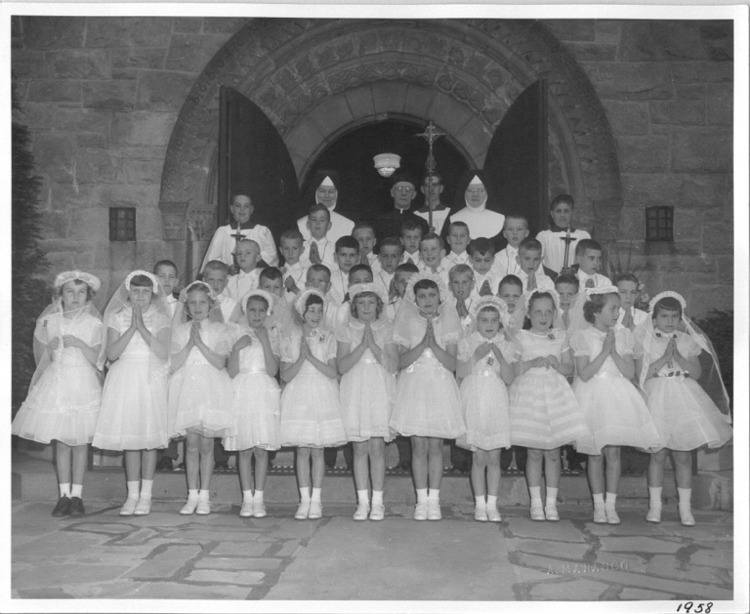 The pulpit was given by Charles Astor Bristed, Jr., son of Grace Sedgwick Bristed. The main altar was the gift of Father Grace. It was consecrated in October, 1918, at the height of the Spanish flu epidemic that killed many thousands of Americans at the end of World War 1. Because of the epidemic parishioners could not attend the consecration or other ceremonies inside the church, and for three consecutive Sundays Masses were celebrated on a lawn outdoors.
In November of that year the parish mourned the death of a former assistant pastor, the Rev. William F. Davitt. Father Davitt had left St. Ann's in 1917 to become a chaplain with the U.S. Army. Serving on the battlefields of France, he was the last American officer to give his life in World War I.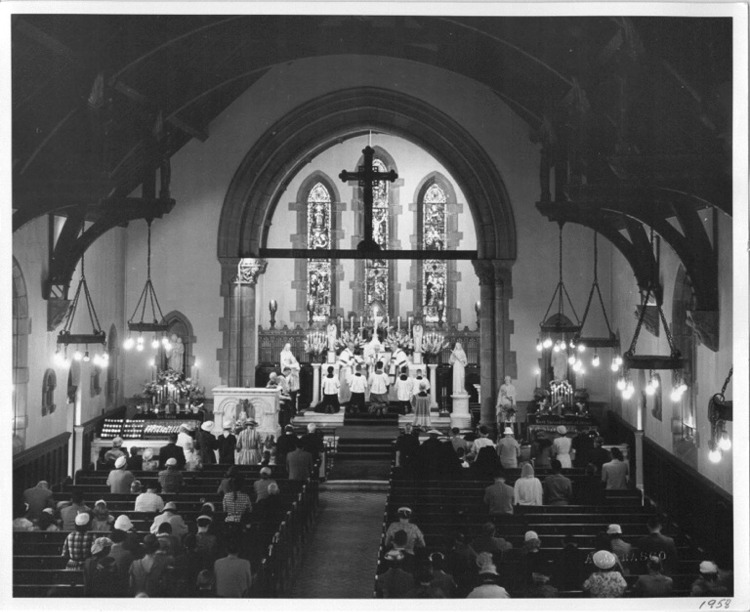 The original St. Ann's Church was put to use as a parish hall, but for reasons that are now obscure, the Rev. Thomas B. Cunningham, who succeeded Father Grace as pastor in 1922, had the wooden building demolished. He also sold the Willows, which is now the Roche Funeral Home, and returned to using the former rectory, which had been rented out.
The Rev. Cornelius F. Donoghue, who succeeded Father Cunningham in 1931, invited parishioners to bring in field stones from which was constructed the Lourdes Shrine in the lot south of the church.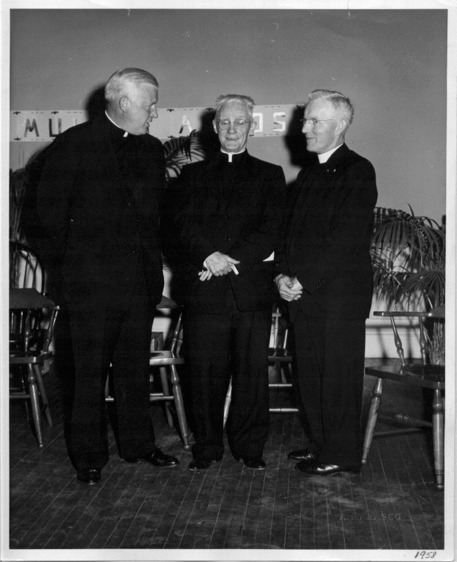 In 1970, led by the Rev. Thomas S. Hanrahan, who was then pastor, the parish celebrated the centenary of the construction of first St. Ann's Church. A thirty-six-page illustrated history of the parish was published at that time.
The decline in the number of priests in the Diocese of Springfield led to a revision in Lenox's parish organization in 1989. At that time St. Ann's and St. Vincent de Paul, whose histories had long been intertwined, became yoked-parishes under one priest, the Rev. Daniel B. Brunton, now our pastor emeritus and who was later assisted by Deacon George Keator.
This was a historic change, since for most of the century the two parishes had been served by a total of three priests. Thus, responding to the challenges of a new era, St. Ann's and St. Vincent de Paul press onward in their sacred mission of serving God and His Church.

2001-2015
Father Christopher J. Waitekus, lead the three churches of St. Vincent de Paul, St. Ann and St. Patrick, from 2001 until 2015, following Father Brunton's retirement in July 2001.
2015 - present
The current pastor of St. Ann, St. Vincent de Paul and St. Patrick parishes is Monsignor John J. Bonzagni. He is assisted by Deacons George Keator, John Zick and Dan Romanello.